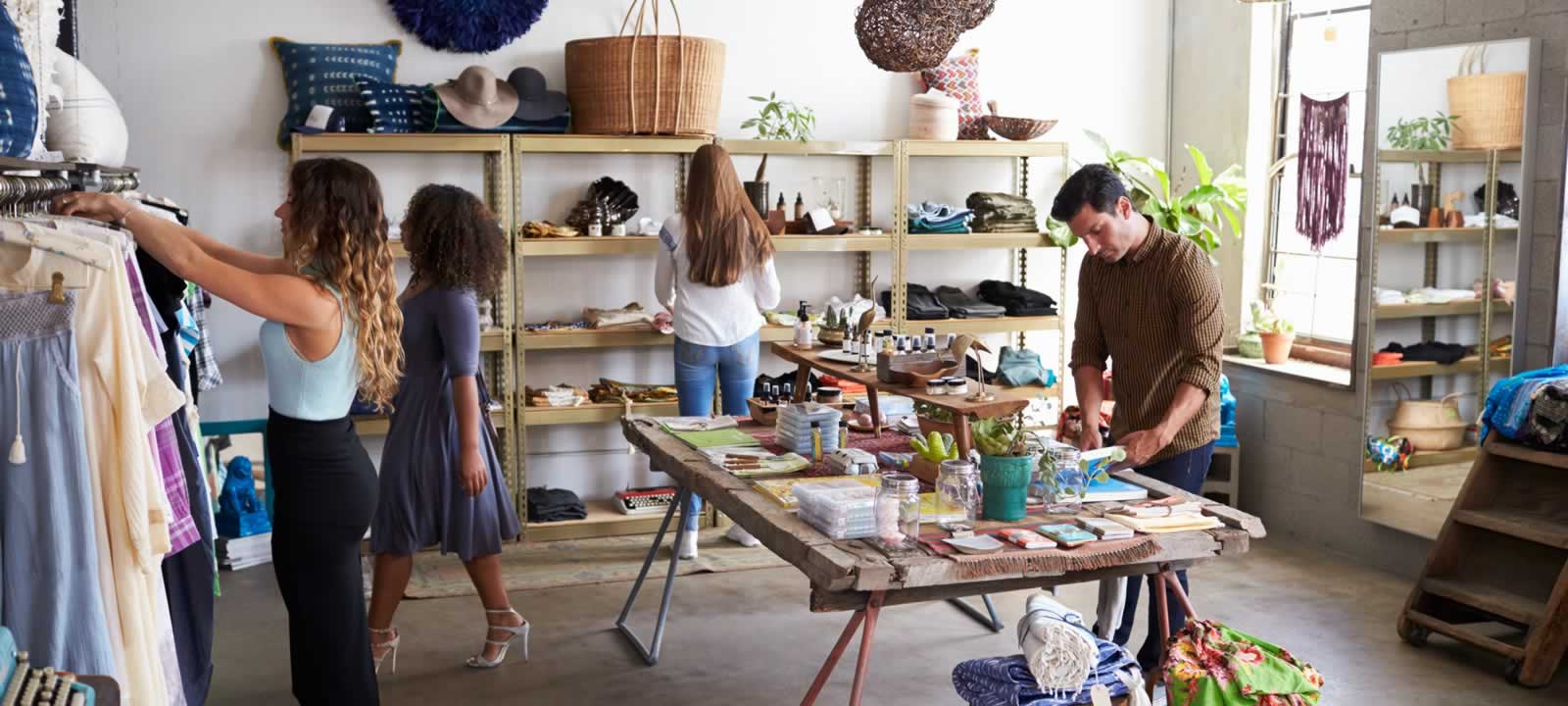 Four reasons why the store could have a new lease of life in a post Covid-19 world
The high street was already in crisis prior to society being rocked by Covid-19, with fewer people visiting stores every year and an increasing number of high street casualties. The introduction of lockdown sealed the fates of several more with Laura Ashley, Cath Kidston and Debenhams suffering in the wake of enforced store closures. Shopping habits had changed, and the high street which had been struggling to keep pace was now immobile.
During lockdown a seismic shift has occurred with an unprecedented growth in online sales. Electronics retailer AO has reported 5 years of consumer behaviours transformed within a 5 week period. This is a sentiment echoed by data consultancy CACI who have compiled a report The New Consumer Reality, which explores consumer behaviour during and post lockdown. Startlingly, this report states that the rate of change is in fact as little as 2 weeks. M&S boss Steve Rowe has also been quoted as saying that consumers "may never shop in the same way again." CACI firmly believe that these new behaviours are here to stay with a fundamental shift prompted by consumer's wider acceptance of digital.
However, whilst the Covid-19 lockdown has been challenging, disruptive and for some catastrophic, the indications as we start to emerge from lockdown are that physical stores could take on a new lease of life. Although consumers have had to increase their reliance on digital shopping there is still a place for the physical store and the ability to visit, representative of the road to recovery. Here are four reasons why we believe shopping on the local high street could make a resurgence and represent an opportunity for store-based retailers in the future.
1. A multichannel approach
With 85% of UK consumers predicted to have increased their online spend during lockdown, the digital divide that existed before has been blurred. The baby boomer generation, previously reluctant to embrace online shopping, are now enjoying the benefits of being able to shop from the comfort and safety of their own homes. Whilst this doesn't sound supportive of physical stores, in fact adoption, confidence and familiarity with transacting online can work in their favour.
Lockdown has hastened the digitisation of many independent retailers and businesses. For example greengrocers are selling veg boxes through social media and bakeries, butchers and even wholesalers delivering to your door – online transactions created via a digital communities. These nimble adapters are establishing a multichannel presence and creating foundations for the new future following in the wake of those who have been performing well during lockdown. The surge in online sales is currently dominated by multichannel retailers who saw online retail sales rise by 35% versus a more modest 8.3% for pure plays.
We will be less likely to travel to shop and will make an effort to continue to engage with independents over online and big high street brands.  The ability to deliver services like this within their local area or offering click and collect provides a safe, accessible way for customers to purchase locally whilst adhering to safety measures and protecting themselves.
As the lines between the digital divide from a customer perspective have blurred so too have those of the silo-ed shopping channel. Whilst online could previously have been perceived as in competition with stores in a post Covid-19 world the retailer simply wants to accept a transaction and where it takes place is no longer important. The role of the store within this new fluid customer journey has great potential and significance.
2. Desire to see, touch and try
Despite this acceleration in online trade, consumers are keen to return to stores, of course with the heavy caveat of significant Covid-19 safety measures being in place. For many, visiting a store is an important part of daily social interactions. Even prior to Covid-19 consumers still valued the in-store experience – the ability to touch, try and see product. These emotive and tangible elements of shopping which have been denied to us during lockdown have more appeal than ever, as the human psyche has a tendency to yearn for what it cannot have.Younger generations in particular have struggled with the constraints of being confined to home and are enthusiastically awaiting the ability to be able to re-emerge and pick up the social elements of shopping and leisure activities.  Shopping locally supports restrictions on travel and concerns around safety but enables consumers to get out once again and see and touch and try product
3. Locality and authenticity
With masses having ditched the commute to work, shopping closer to home rather than the office could be one of the most significant changes in behaviour post lockdown. The sense of community that has been fostered during this period will still be important to customers and so ensuring that your brand is front of mind will be paramount in order to capitalise on a boost to footfall. For many local businesses the last mile is also the first mile, so they will have an operational and sustainable advantage over larger retailers.
4. Sustainability
The impact of Covid-19 in terms of the fall in pollution and greenhouse gas emission will inevitably impact the way in which consumers behave in the future. For younger generations climate change remains a significant issue and a situation that has been temporarily alleviated by lockdown. Continuing in this vein, by creating a smaller carbon footprint by continuing to walk more and have less reliance on public transport and cars will be important to them. Consumers will also be looking to retailers to have a socially responsible attitude towards their staff and customers.The CACI report emphasises that brands who are wanting to appeal to younger customers in particular should be demonstrating their commitment to sustainability and social responsibility. Therefore, an emphasis on shopping locally in a store you could walk to will undoubtedly be an engaging message.
With the digital divide between Millennials and Baby Boomers bridged, increased online behaviours coupled with a smaller sphere of influence for many consumers will mean that the role of the store becomes more important than ever. Not only for creating brand experience but also as a means to connect with consumers. In recent times in-store has been secondary to online for many retailers but now is the time to change that.
According to Rumble Romagnoli's article in The Drum, A bold new marketing strategy for a new world, as we move out of lockdown and re-emerge into a brand new world, smart retailers will be targeting locally – a sentiment we wholeheartedly agree with. With customers focus concentrated on living, working and shopping locally, location based marketing focused on customers within a close proximity to store is the ideal approach to elevating awareness, interest and engagement with your business. We have employed strategies of this nature with great success for many clients developing and deploying retention and acquisition campaigns at a granular level by postcode.
Whilst the Covid-19 lockdown has had dramatic implications, now is the time to assess and consider marketing to customers in a new way and leverage the opportunities available to retailers. We firmly believe that the right positioning of your proposition, emphasising robust safety measure for reassurance, coupled with effective marketing at a local level has the potential to develop a new lease of life for the store, re-establishing itself within communities and securing a future for the store.
Want to find out more?
Find out more about our approach to location and proximity marketing find out more about our services here [link to page] or give us a call or drop us a line. We'd love to talk about you and your business.
SOURCES
https://www.marketingweek.com/online-retail-sponsorship-rebranding-5-interesting-stats-to-start-your-week/?cmpid=em~newsletter~breaking_news~n~n&utm_medium=em&utm_source=newsletter&utm_campaign=breaking_news&eid=13883341&sid=MW0001&adg=65f484ca-89ca-4c25-9ff4-0f34691fe9d4
McCulloch, Alex. CACI, The New consumer reality, 14 May 2020
Fidel, Survival of the fittest: How the high street will evolve after the crisis
https://www.thedrum.com/opinion/2020/05/19/bold-new-marketing-strategy-brave-new-world