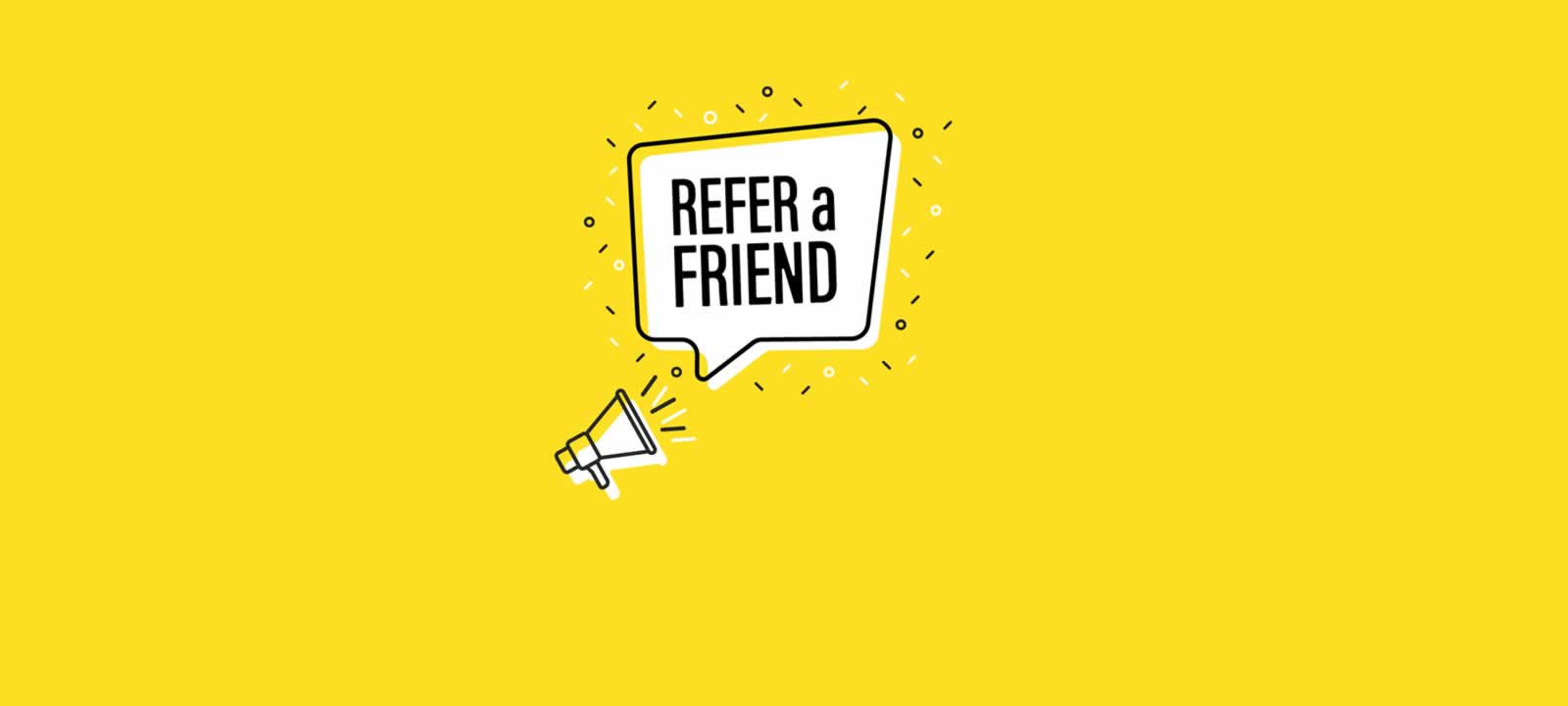 Recommend a friend: Great experiences lead to great rewards
As we continue to look ahead at life after lockdown, there are a number of ways in which retailers can be ready to welcome customers back in-store when it is safe and well to do so. Whether that be a special re-opening event once social distancing guidelines are lifted, or an incentive for loyal customers, when it comes to marketing there is one tactic that outperforms every time: word-of-mouth (or referral) marketing.
With reports coming through that over half of UK retailers face closure if the coronavirus lockdown continues into the summer months, it is a worrying and uncertain time for many. With limitations being lifted currently, experts are suggesting that £37 billion of lost revenue will have been seen across the UK high street once stores are back up and running. Therefore, it might be time to start thinking about your marketing strategy more than ever to claw back that lost revenue from quarter two.
Consumers tend to take traditional forms of advertising and marketing with a pinch of salt – according to a survey, 53% do not trust advertising, so customers are less likely to trust product information that comes directly from a brand than they are from reviews of people who use the products themselves.
Fortunately, there is an effective way to utilise this type of response within your marketing plan – a referral programme, or 'recommend a friend'.
It's a way to build trust between you and your customers effectively, it won't eat into your marketing budget, and it gives you the opportunity to thank loyal customers. With the current situation, your existing customers are more important than ever right now.
What is a Referral Programme?
Referral marketing works on the basis that if you have happy customers coming into your store, they will effectively spread the word to their friends, family and social media followers. A good experience is always worth shouting about and is very similar to the way influencer marketing tends to work. Online influencers are often paid to speak about a brand however many consumers have become savvy to some influencers that are paid to say whatever the brand asks rather than give their personal opinion – meaning they trust their friends and family a lot more.
However, in practice, it doesn't always work that way. Maybe the subject doesn't come up in conversation, or it's an item that you wouldn't necessarily share on your social media platforms. This is when a Refer-a-Friend scheme comes into play. As an organised process in which a customer is rewarded for spreading the word, it's a great way to establish a defined process for incentivising their referrals. A referral program can be customised and tailored to the individual client if you have the means to track their spending habits and product purchases, with the use of a CRM system such as our Response Works platform.
In-store
A survey by Nielsen showed a whopping 84% said that they trust brand referrals from their friends and family. That number puts referrals ahead of the next most trusted channel (branded websites) by 15%.
Great experiences lead to great rewards – for both you, and for your customer. If you provide an experience worth shouting about, your current loyal customers are bound to tell their friends. But is there a way to formalise this process and actively encourage referrals of your loyalty programme?
There are a few ways to do this in store:
Offering a % off their next purchase if a friend signs up for loyalty
Exclusive customer events. Ask them to invite a friend and sign them up on the day
Afternoon tea for two – bring a friend for free once they sign up for your loyalty scheme
At Redfish Group, we're experts in retail loyalty schemes, and have all the means to ensure increased revenue, customer acquisition and customer retention.
Online
Referral programs have helped many businesses grow by engaging and leveraging their brand and, like all marketing programs, referral marketing is most effective when managed efficiently and optimised to attract the right customers.
Ensuring that your marketing actively encourages the referrals — meaning that your loyal customers recommend your business to their friends and family — is the real challenge. Like other marketing programs, you can build it, but that doesn't necessarily mean that they will come. However, online platforms such as Mention Me are a great place to start. www.mention-me.com
With brands across retail, food & drink, travel & leisure, finance, and utilities using the Mention Me platform, you'd be offering a similar incentive to GlossyBox, Thortful, Schuh, Pretty Little Thing and Missguided. It's completely up to the retailer what they offer as an incentive – as you can see below, it can vary from store to store:
Glossybox
https://www.glossybox.co.uk/myreferrals.list
Glossybox are a beauty box subscription, where customers can sign up to receive five new makeup, skincare and haircare products every month, worth over £50. It's a perfect way to try out new products and rediscover old favourites, for as little as £8.50 per month. By signing up, customers are invited to join the 'Glossy Community' and enjoy exclusive tips, tutorials and offers sent to their inbox, as well as the opportunity to take surveys to collect 'GlossyCredits' to spend at Lookfantastic.
Glossybox have teamed up with Lookfantastic and have a great business model in place, but the refer a friend scheme adds that extra incentive for people to share with their friends and be rewarded for their advocacy. With their scheme, for each friend you refer, you receive £10 to spend either on GlossBox, or credit to use on Lookfantastic, whilst your friend enjoys 20% off their first box.

Thortful
Thortful is a creative card marketplace supporting a community of designers, illustrators and photographers who create beautiful, unique greeting cards. They saw a gap in the market for creative and diverse designs, and witty slogans, and filled that with a website and app with 1000s of cards for every occasion. There are options to save key dates, schedule card deliveries for the future and even upload a message in your own handwriting to print inside and send directly to the recipient. 
https://www.thortful.com/refer-a-friend
Their refer a friend scheme offers a code to send to all your friends or share on social media, giving new customers 30% off their next order. When the code is used and the order goes through, the referrer is sent a £5 voucher via email.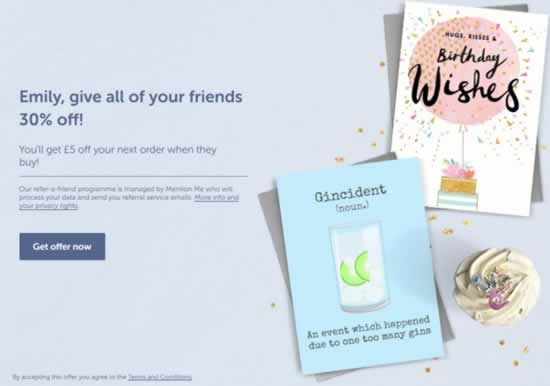 Schuh
With 132 stores across the country as well as an ecommerce platform, Schuh stock brands such as Converse, Vans, UGG, Nike and Adidas, as well as their own label, meaning customers can find an array of styles all in one place. In a competitive market, they promote brand advocacy using a refer a friend offering where customers can earn 15% off anything online for them and their friends.
As an online promotion only, it's easily shared with friends via email or social media, and benefits both the customer and their friends and family. With Schuh, all they need to do is enter your name at the checkout – it's as simple as that.
So, do Refer A Friend codes really work? We put it to the test…
On the 19th March, we placed an order on Thortful for two Mother's Day cards and got sent a Mention Me email after purchase. I shared the code on Twitter to my friends saying I use the site often and anyone is free to use it, especially with an impending lockdown on it's way. I don't have a huge influencer following, so didn't expect 100s of people to use a code shared, but I tracked it anyway. As of Friday 22nd May, it's been used 14 times.
That's an extra 14 people on the Thortful database, each benefitting from 30% off their order, and has given me £70 in credit to spend on the Thortful website – a massive incentive for me to now buy all cards for all occasions for at least a year!
When done well, a Mention Me refer a friend code is the perfect way to build your database, as well as thank loyal customers for their support, and with retailers finally re-opening after the Covid-19 crisis, it may be time to implement one yourself!