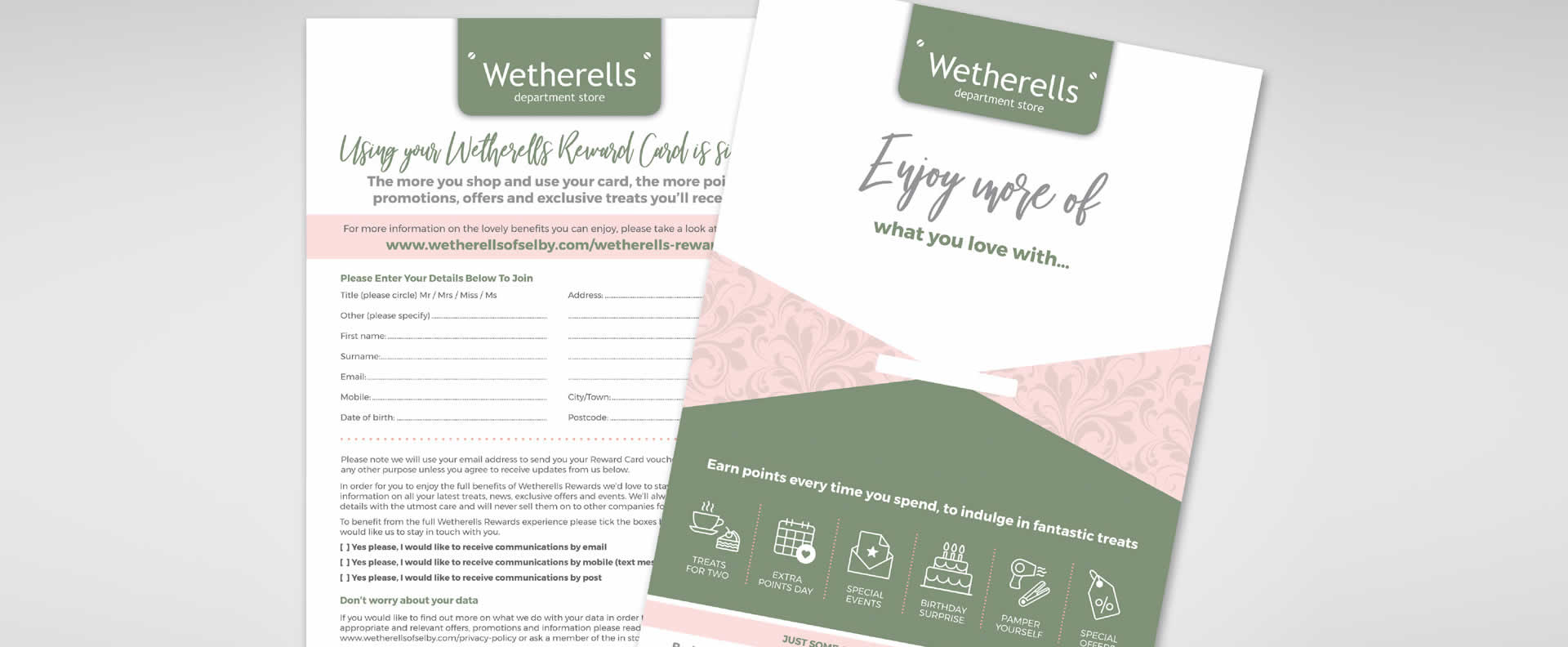 ​Wetherells is an independent family Department Store, loved locally by their valued customers since it was established in 1898. Their 120 year heritage has given four generations of the Wetherell family the experience to deliver excellent style, quality, value and service. With a mixed offering of cosmetics, fashion, home, furniture and toys, the opportunity arose for Redfish Group to refresh their loyalty scheme and engage new and existing customers, changing their tired voucher-based loyalty programme to a more up to date Rewards card, and offering customers new and exciting benefits that maximised in-store assets such as the Coffee Lounge and hair salon.
With an inability to measure and track marketing activity and the contribution of loyalty to the business, we implemented our Response Works environment. As Wetherells had been operating loyalty for a number of years we leveraged the existing database in order to maximise the opportunity for enhanced retention marketing and new customer acquisition through the insights provided by Response Works and the application of geo-demographic profiling. This intelligence was then applied to implement regular and relevant email campaigns and targeted recruitment activity via door drops and strategically placed adverts in local publications.
The ability to be able to track and measure campaign effectiveness across differing media via Response Works has enabled Wetherells to re-evaluate their marketing spend and apportion budget to mechanisms that deliver them a positive result. Email campaigns now average an excellent 3% response rate and acquisition activity a healthy 1%.
The impact of this approach to marketing is reflected in increased revenues, with 37% more loyal customers transacting in 2019 than 2018 and the overall revenue generated increasing by 14%. The ATV of loyalty customers is 66% higher than non-loyal, and the number of active customers within the database increased significantly during 2019.
Redfish Group's approach to data driven marketing has enabled us to understand how to grow our customer base cost-effectively and engage with our existing customers in a way that resonates and drives footfall into store. In the current climate, it can be difficult to navigate the best means to acquire new customers at the same time as retaining our loyal base but their approach has struck a balance that led to increased contribution from loyalty revenue in the last 12 months. They come highly recommended.
Technologies Applied
Intelligent CRM
Integration & Support
Project Management
Services Delivered
Strategy
Brand Design
Analytics
Point of Sale Creative
Loyalty & Retention
Direct & Email Marketing
Acquisition Campaigns
Geo-demographic Analysis