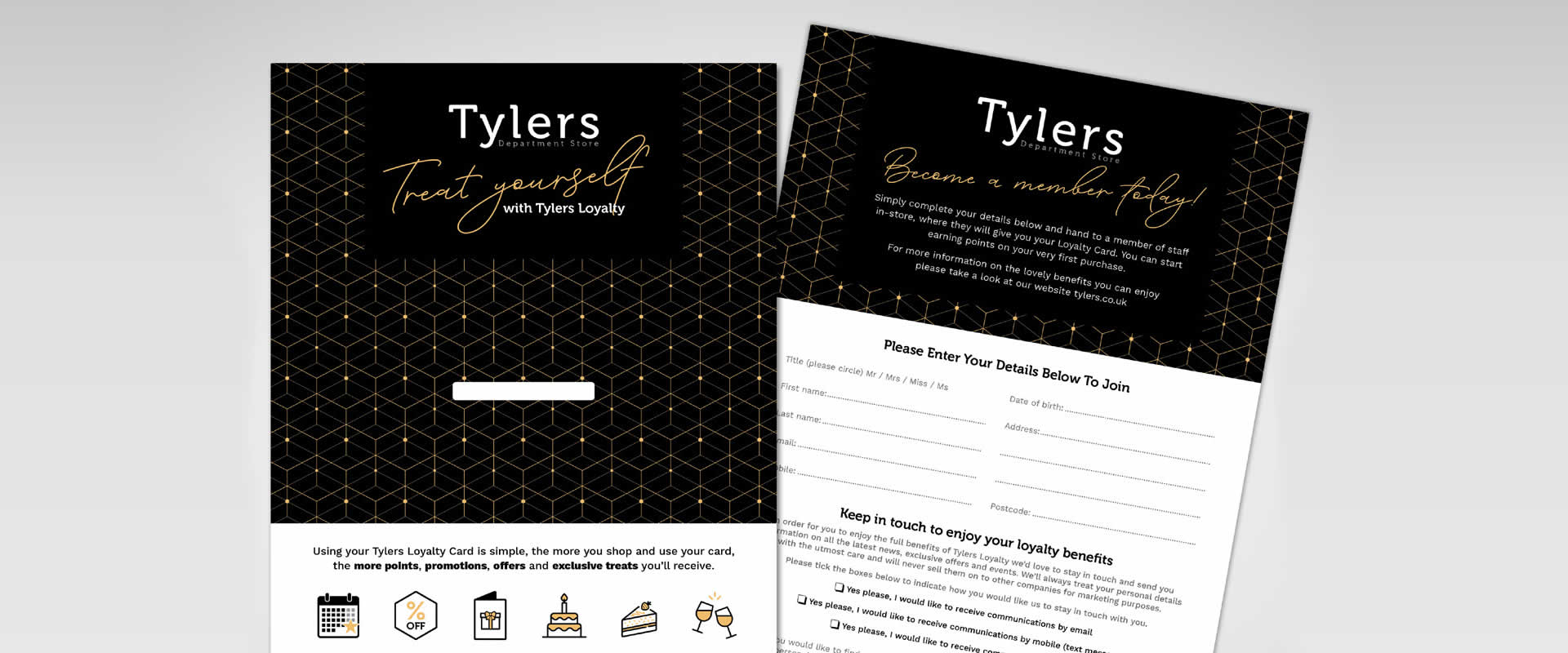 Tylers is a family run Department Store, loved locally since 1922. The store offers a variety of products from homeware and furniture, to gifts, jewellery and fashion. Tylers had been operating a points based loyalty scheme for a number of years but sign ups had stagnated and the store was experiencing decreasing footfall.
We worked with Tylers to refresh their existing loyalty with new benefits that leveraged in-store assets such as the very popular café and product ranges that prompted frequent visits to store such as greeting cards. Tylers also had no way of measuring and tracking their marketing activity in order to understand the contribution the loyalty scheme was making to the business so our Response Works environment was integrated with their EPOS. Off the back of the loyalty scheme update, acquisition was introduced pre-Christmas 2019 to increase database numbers during this key period. The existing database was profiled against geo-demographic data to determine the make-up of the current customers and identify the best areas for recruitment. A refresh of the store's existing email marketing was also implemented to re-engage with the database from a retention perspective.
The database grew by 28% in 2019 with 57% of new sign ups acquired during the acquisition campaign period. Recruitment exceeded all expectations with a 1% response against the door drop activity. Email campaign responses average at a healthy 2% and both the retention and acquisition campaigns contributed to overall revenue increasing by 16% in 2019.
We re-launched our existing loyalty scheme according strategies agreed with Redfish Group just before Christmas 2019 and have no regrets in taking their advice. Their forecasts delivered as promised and we saw a fantastic response from customers to the refreshed loyalty scheme. We have a more engaged customer base and through Response Works insights have a better understanding of our customers and how to communicate effectively with them. Their low risk approach is to be commended.
Technologies Applied
Intelligent CRM
Integration & Support
Project Management
Services Delivered
Strategy
Brand Design
Analytics
Point of Sale Creative
Loyalty & Retention
Direct & Email Marketing
Acquisition Campaigns
Geo-demographic Analysis