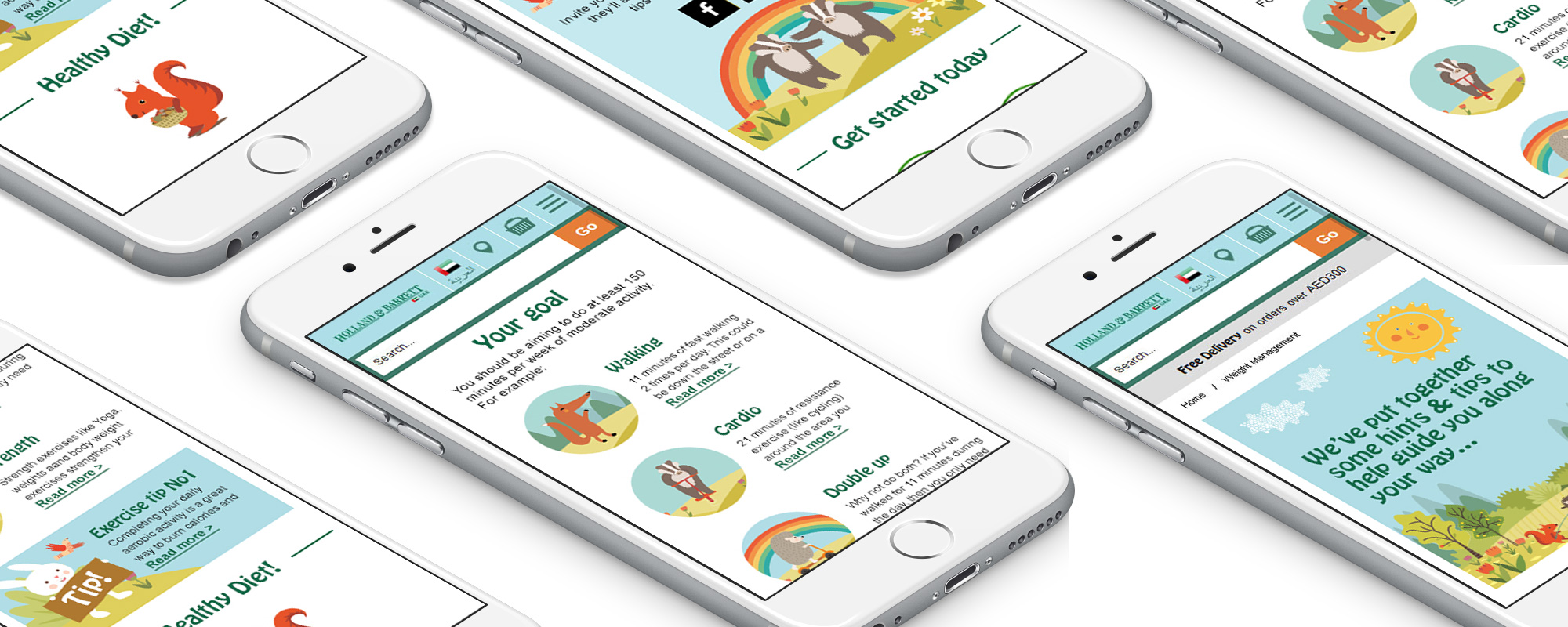 Holland & Barrett is a leading retailer of vitamins, minerals and herbal supplements.
Health and beauty products are a frequent purchase and enticing a customer to keep purchasing that product is a key objective for any retailer within this sector. A great experience whenever and wherever they choose to interact with the brand is fundamentally how to engage with a customer to develop long term loyalty, whether online, instore or through the receipt of personalised and targeted direct marketing. As a Holland & Barrett preferred Magento supplier we have worked with the business to support their operations in Europe and MENA on a number of projects designed to improve their capabilities as a multichannel retailer maximising customer engagement both online in store.
The Results
Belgium Optimised fully responsive multi lingual Magento ecommerce
Conversion improved by 28%
Revenue increased by 33%
UAE Optimised fully responsive multi lingual Magento ecommerce
Conversion improved by 192% in only 6 months
Revenue increased by 124% Integrated blog with relevant and contextual content
Direct email marketing
Redfish Group quickly responded to our needs working professionally and with diligence under difficult circumstances to maintain and improve our sites conversion. The teams development of our European Magento sites and instore technologies will help us achieve our customers engagement and growth objectives. Good result – good team.
Bridging the gap between Digital and In Store Client
Following the re-launch of their updated transactional website Holland & Barrett were looking to maximise customer engagement by creating a link between the online and in store experience. Holland & Barrett is highly committed to delivering high levels of customer service and wished to use
their 'Wellbeing' product range as the means on which to provide customers with additional product information and advice to enhance the shopping experience and build stronger, long term relationships. Our Approach We worked with Holland & Barrett to develop and deliver a user interface to empower in store staff with increased levels of product and customer knowledge. Accessed via tablet, the in store team are enabled to provide customers with advice and support on choosing products to aid and prevent the symptoms of a number of ailments and conditions. Product recommendations and availability of stock can also be checked in real time with the customer with the means to connect to the online store. To support the increased capability of the in store team iBeacon technology was also implemented. Customers were recognised as they entered the store and issued with relevant marketing incentives via text or email. The in-store team were also be notified of a customer's presence enabling product upsells and improved customer service levels.
Redfish Group supported the business with the development of a store based application and number of online tools. These have supported, built and enhanced the in-store team's product knowledge, providing them with the ability to engage, interact and communicate more effectively with our customers.  This application of technology to enhance our in-store experience was innovative and timely and has had positive impact across the business.
Technologies Applied
E-Commerce Platform
Search & Merchandising
Intelligent CRM
Bepsoke Applications
Integration & Support
Cloud & Bespoke Hosting
Project Management
Services Delivered
Strategy
UX Design
Responsive Design
Cross Channel Analytics
Point of Sale Creative
Loyalty & Retention
Direct & Email Marketing